The main use case for butt is to broadcast live audio from external audio sources. However, many people like to broadcast music they have on their computer. Because butt is not able to read music files you need a little helper tool that creates a virtual audio device.

In this tutorial you will learn how to set up butt with BlackHole on macOS.

First you need to download and install BlackHole from the following site

https://existential.audio/blackhole/

Unfortunately, you have to enter your email address before the download link is revealed. In case you have HomeBrew installed, you can also install BlackHole from the HomeBrew repository or compile it from source. BlackHole offers versions with support for 2, 16 and 64 channels. In most cases the version with two channels should be sufficient. Therefore this tutorial will only cover the 2 channels version.

After BlackHole has been installed, a new audio device with two input and two output channels appears in your macOS audio settings. To broadcast music files with butt you have to play them back with you favorite music player and select the audio device BlackHole 2ch in the macOS audio settings.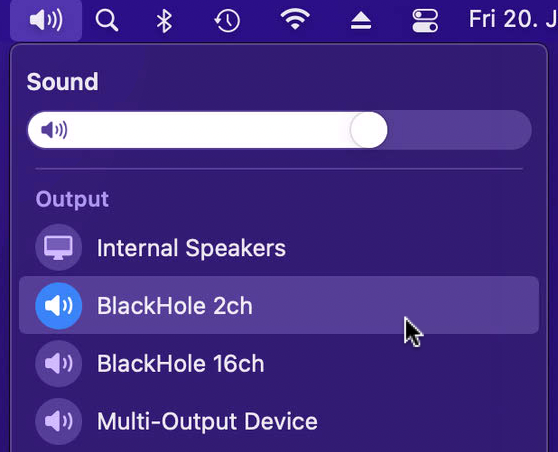 Once you have done that you need to select BlackHole 2ch as input device in the audio settings of butt.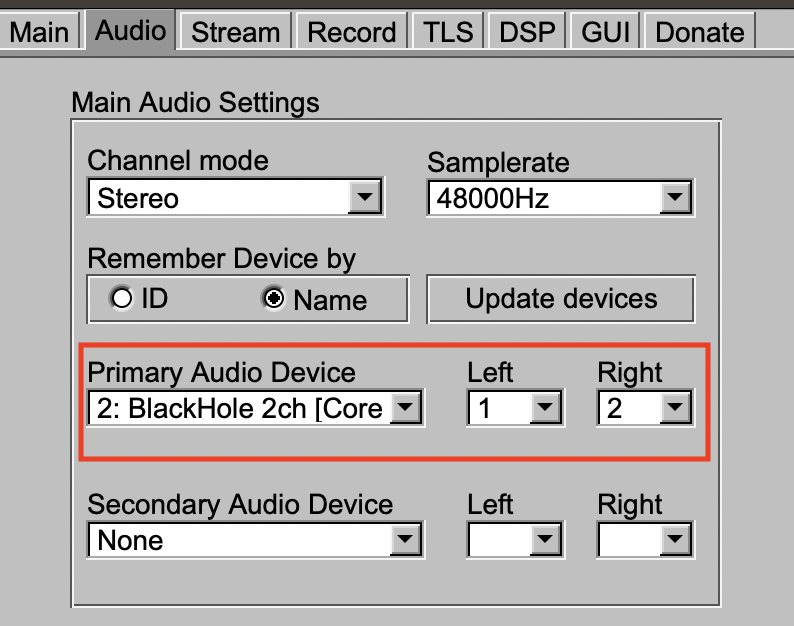 Now everything is set up and you can start your broadcast.
Although this method does the job, it comes with a drawback: You will not be able to hear the music through your speakers anymore. To solve this issue, we need to go a step further and configure a
Multi‑Output device
. To do so open
Spotlight
by pressing
command
+
space
, enter audio midi setup into the search field and click on
Audio Midi Setup.app
.
This will open the following window.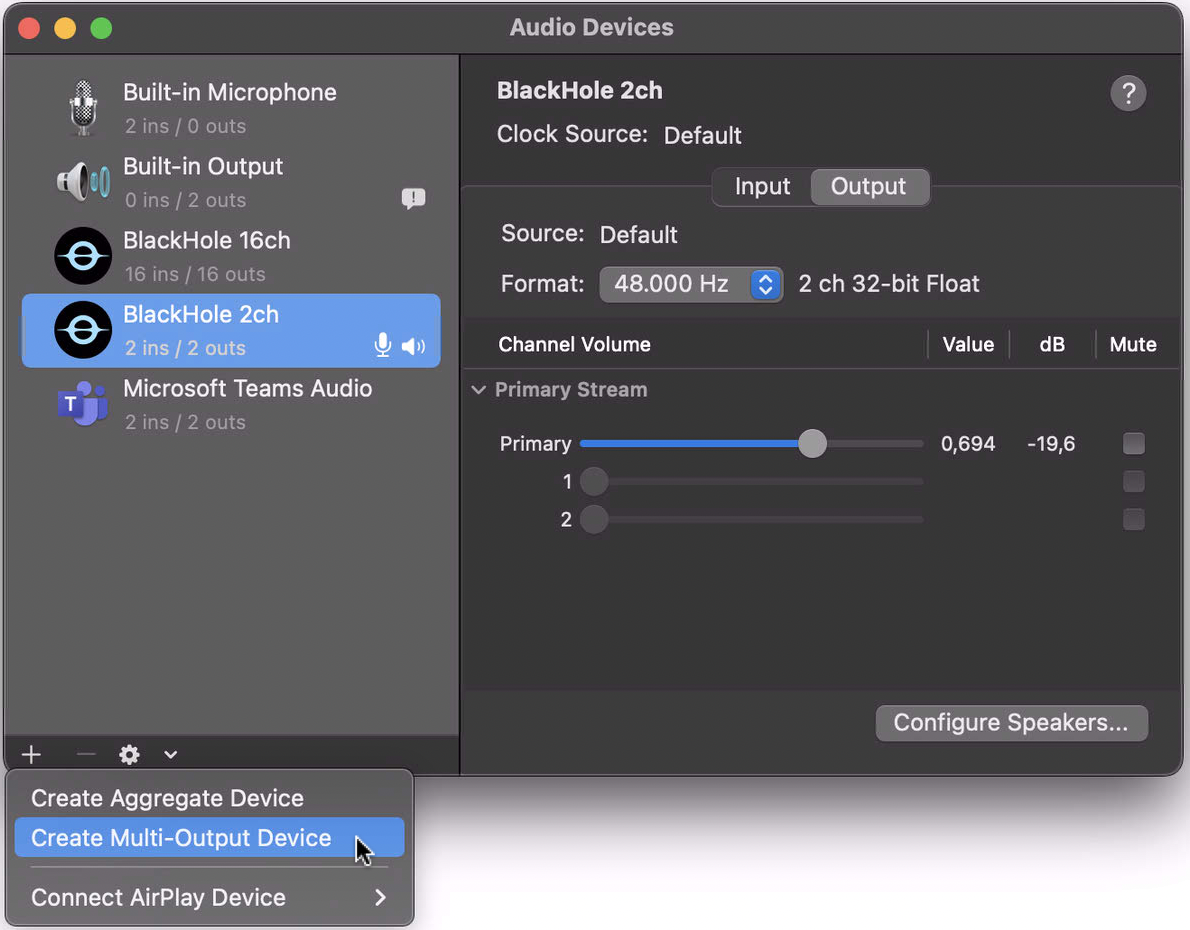 To create a Multi-Output device click on the + symbol in the lower left hand corner and select Create Multi Output Device.

Now activate the check boxes of the devices you want to include in the Multi-Output Device. In this case it is the Built‑in Output of my Mac and BlackHole 2ch.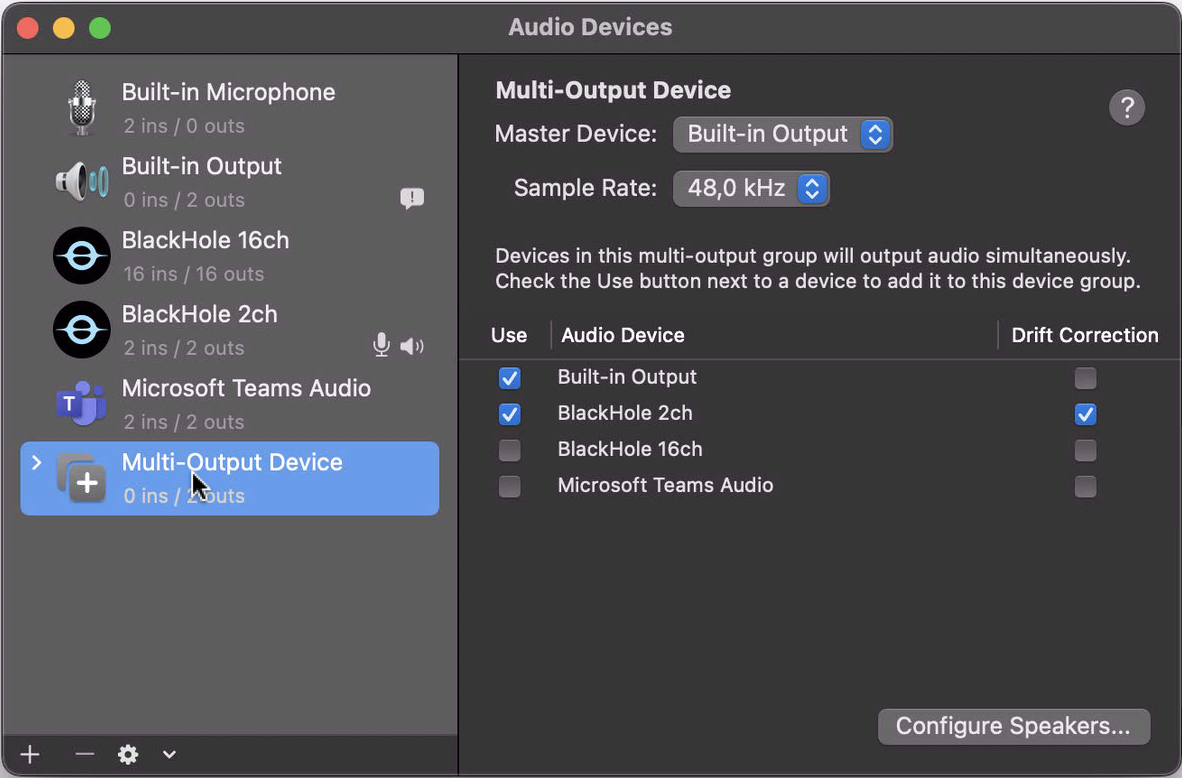 To set the newly created device as your active output device either right click on
Multi‑Output Device
and select
Use This Device As Sound Output
or select it from the Mac audio settings like you did before.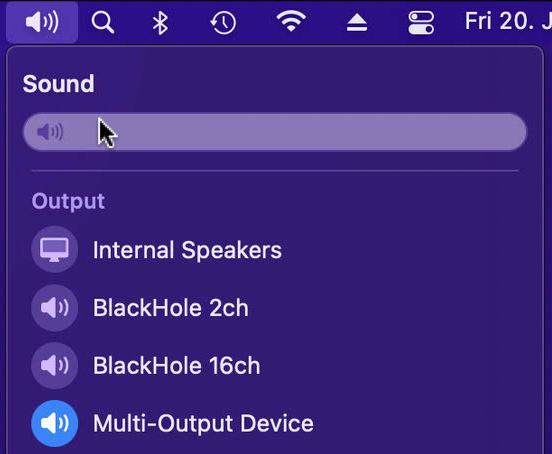 Unfortunately, macOS does not support changing the volume of a Multi‑Output Device. However, you can get around this issue by changing the volume of each device separately in the Audio Midi Setup configuration.

You don't have to do any changes to the butt configuration. Just select BlackHole 2ch as input device as you have done in the more simple case above.